Hi, it looks like you're located in the US.
Let's make sure you're shopping on the right Navago site.
10/17/2019
Makeup Tips for Over 40: How to Highlight Mature Skin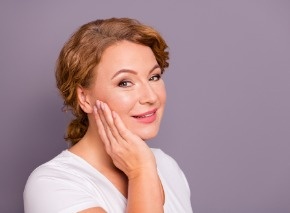 Is your highlighter making you look more hot flash than hot? As skin ages, you lose the natural radiance you once had, but highlighter doesn't deliver the same effect it did in the past. Before you pitch your favorite highlighter in the trash, find out how to highlight mature skin with makeup tips that can save your glow.
Makeup Over 40 Tips on Highlighter
Highlighter is much more than a radiance booster. It draws light and accentuates the area where applied. Great if you're showcasing buoyant cheeks and firm skin. But it can also draw attention to sagging skin or hollow under eyes.
A common mistake women with mature skin make is over-applying highlighter in an attempt to combat dull or dehydrated looking skin. This only enhances the appearance of roughness, lines, and wrinkles. The issues you are working to hide.
Use a light touch on mature skin and apply highlighter where you want to draw attention. And by all means skip the areas you don't!
How to Choose the Best Highlighter for Mature Skin
Oil production slows down as we age and this means drier, thinner skin, and fine lines. Natural makeup brands create cream-based highlighters that look better on dry skin and are made with emollient ingredients that keep skin moisturized.
When choosing a highlighter, be sure to match your skin tone. The truly beautiful thing about highlighters today is that they come in an array of hues. If you have fair skin or pink undertones, go with a pink-toned highlighter. Those with medium skin or yellow undertones will look better with a peachy-toned highlighter. Darker skin tones benefit from a warm-toned highlighter. Remember, you are going for the look of natural glow, not shiny or shimmery.
Speaking of shimmer. One important factor in a successful highlighter over 40 look is to nix any products that are overly shimmery. This look is hard to pull off at any age and is definitely something to steer clear of if you have mature skin.
How to Highlight Mature Skin
Now that you know how to choose the best highlighter for mature skin, it's time to learn how to apply for a natural looking glow.
1. Warm and pat on: Warm the highlighter with your fingertip to soften oils and then pat onto skin instead of applying straight from the tube or stick. This will create a more natural look.
2. Get cheeky: First, apply to tops of cheekbones, just above where you apply your blush.
3. Eye appeal: Now pat the highlighter under your brows to create the illusion of lifted eyelids and draw attention to your brows. This is especially useful for those with deep set or hooded lids. Then dab a bit of highlighter into the corner of your eyes for a more awake look.
4. Middle ground: The bridge of the nose is a mainstay in highlighter application and still works well if done right. A firm application down the entire bridge of the nose may end up looking overly shiny. But patting a dab of highlighter on the middle point of the bridge with a light touch will add a hit of overall radiance to your look.
5. Luscious lips: Finally, pat highlighter onto the Cupid's bow of your lips for a fuller looking pout.
That's it! Highlighter is a friend to women over 40. You simply need to know how to choose the best highlighter for mature skin and perfect your application. Here's to a luminous future.