Hi, it looks like you're located in the US.
Let's make sure you're shopping on the right Navago site.
06/18/2021
Deep Dive with Amoda Tea Founder Tegan Woo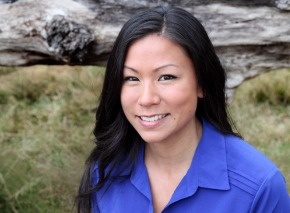 Amoda Tea is at the forefront of crafting and creating "drinkable wellness products" as Tegan, Founder of Amoda Tea tells us. We caught up with Tegan to learn more about her products, her brand and her story.
Amoda Tea makes superfood lattes using matcha, turmeric and chai. Using those primary ingredients, Amoda blends them with different plant and mushroom powders to help support your body and mind. Amoda Tea wants to be a place between supplements and your daily drinks.
In our interview, Tegan explains that customers can integrate these teas into their self care routines while trusting that the tea's ingredients are "doing meaningful things for their wellness." "One of our main values is really making sure that our products have enough of the active ingredients to actually make a difference."
What inspired you to create Amoda Tea?
"It's really been an evolution. Amoda tea began as a tea subscription box and it was built on a pure love of tea. I first worked on herbal tea blends and then started mixing matcha, which is my biggest passion. I started mixing matcha with different herbs and realized some had good synergies with matcha and it all brewed from there..and now, we are more of a manufacturer of wellness drinks."
How do you choose which tea blends to create?
"Usually we start with a need; things we are hearing customers complain about in their lives like low energy, stress or gut health. We start with that need and research what herbs are out there that would be good. I look at a lot of different studies and find out which herbs work best together as well and then I start experimenting basically. Always choosing really safe herbs, and ensuring the adaptogens we use are all very safe for the majority of people to have. It's just a combination of that and experimenting to get the flavor that I want."
How does your tea benefit consumers?
"We are really careful about how we market. There are a lot of things that are said that are a bit over the top and a bit misleading. We will never say our products are immune boosting because technically the herbs don't boost your immune system, they are more supporting."
"A main thing that our products do is help your body adapt to stress. Stress is a big factor and it kind of goes hand in hand with your immune system. So if you're not tackling your level of stress and considering how your body is reacting to those stressors, then your immune response is going to be lowered. So, I think that all our products target stress and mood and how that is all related."
How do you source your ingredients?
"When we source our products we have a really good direct relationship with our ingredient suppliers and farmers for our matcha. I do as much as I can for not being able to travel to the source, to ensure that there are ethical protocols in place. Usually we will opt for co-ops and small farms and family farms."
"With our matcha, which is the ingredient we source the most, that's all coming direct from Japan. We've been there and seen the factory and we know the company and it has a long history and good reputation in Japan. That's really important to us in terms of where the product is coming from."
What makes your tea different from other teas on the market?
"I think for our latte blends, the two things that really set us apart are that we base our formulation on research, studies and science and we include meaningful amounts of ingredients. I think that really sets us apart in terms of the intentions we have behind the blends."
"The other thing that sets us apart is with our matcha, and that we have developed that direct relationship and it's not a mass produced matcha. It's something different. And we try to keep everything affordable even though the whole industry is expensive. We try to keep it as affordable as we can. Personally, I really believe that there is a lot of value in the little pouch and powders."
If you would like to learn more about Amoda Tea and their products, you can follow them on Instagram and visit their Website.