Hi, it looks like you're located in Canada.
Let's make sure you're shopping on the right Navago site.
08/07/2019
How Navago is Changing the Natural Beauty Conversation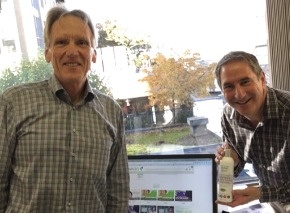 When shopping for natural beauty products, supply certainly isn't an issue. But what about trust? It can be difficult to purchase items for maintaining a healthy lifestyle with so many options flooding the market, leaving you with more questions than solutions.
Which stores and brands are doing it right and deserve your support? How do you know what works for you? What products are authentic and which ingredients are best avoided?
When Navago Founders Phil Dubois and Kevin Jampole started Navago, their multi-vendor online marketplace, they took these questions to heart. While they both have deep roots in entrepreneurship, they also have vested interests in healthy living and the value of close personal relationships. The fact that they combined those two factors in their brand was no mistake.
"We wanted to create closer relationships between consumers, brands, and influencers in order to support a holistic understanding of a healthy lifestyle."
How does one go about dispelling myths and creating a sense of trustworthiness and true connection in the sea of natural beauty and personal care already on the market? By forging close relationships between their customers, the brands they work with, and beauty influencers who are offering authentic advice. This not only backs up the products Navago sells, but shares knowledge consumers are looking for on maintaining holistic health.
Meet the Navago Founders
Phil and Kevin may both come from business backgrounds, but they are also firmly planted in healthy living. "I'm living what Navago is all about: an active, healthy lifestyle," said Phil.
"Since a young age, I've been passionate about outdoor activities, like Alpine and Nordic skiing, cycling, running, and hiking. I also enjoy ballroom dancing, weight training, and spin cycling," said Phil. "I've had a long-term commitment to healthy eating, with a focus on a more Mediterranean based diet of fruit and veggies, whole grains, and fish. My wife and I love to cook. Fast food is not part of our diet."
"In the last 20 years or so, I've become increasingly conscious about the ingredients in the foods I eat, which has carried over to the skincare and shaving products I use, adjusting my product selections to include only natural and organic alternatives," Phil said.
Kevin Jampole is a more recent convert to healthy personal care products and has constant reminders of the importance of safety in cosmetics right at home. "With a wife and three daughters, two sisters, and a 96 year old mother, I am surrounded by women who care about their beauty routines and healthy choices," said Kevin. "I can't help but be aware of green alternatives and being good to our planet."
Though Kevin is transitioning from health curious to health conscious, he realizes the importance of creating personal relationships between brands and their customers and is willing to try new personal care practices. "I recently completed my first detox," said Kevin, referring to his switch from conventional antiperspirant to natural deodorant. "It was a tough transition as my lymph nodes detoxed, but I can't image going back to what I used in the past."
Natural Beauty is One Aspect of the Navago Conversation
Both founders are invested in the health and safety of the environment, in bringing the best natural beauty and personal care they can find to their customers, and to offering a wealth of knowledge from beauty influencers and their own research by creating an online shopping experience with a communal feel.
"Navago is a community of brands and consumers passionate about healthy living. We have a holistic view of "healthy" that includes what we put on our bodies, what we put into our bodies, how we treat our bodies, and how we respect the environment around us in a way that ensures it is a healthy place for us and future generations to live."
"Within this context, we're committed to natural indie beauty brands who believe, as we do, that the products we use should enhance our lifestyle by being made of organic and natural ingredients and friendly to our environment," said Phil.
Sharing information through their blog, social media, emails, and videos presents a wide range of content that is relevant and interesting to those interested in or committed to a healthy lifestyle. "We are one of the few online marketplaces providing a single site where like-minded brands and consumers can meet to share information on all aspects of leading a healthy holistic life," Kevin said.
A carefully curated selection of natural indie beauty brands and eco-friendly cosmetics and personal care products fits organically into that vision. Backed up with a wealth of information on maintaining a healthy lifestyle with conscientious choices and thoughtful customer care, and these founders truly are walking the talk with Navago.