Hi, it looks like you're located in Canada.
Let's make sure you're shopping on the right Navago site.
04/29/2021
Deep Dive with Olive + M Founder Mariska Nicholson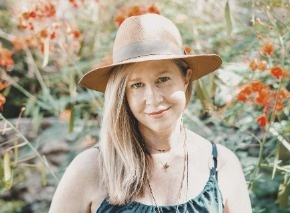 Did you know that the properties of olive oil mimic your skin's natural oils, leaving it extra smooth and super soft? It's true, and Olive + M is here to prove it!
Olive + M is an all-natural plant-based oil skincare company that exists to connect women to the powerful properties of Mother Nature. By gracefully weaving together science with high-quality natural ingredients, they bring you the "farmers market for your face".
We caught up with Olive + M founder Mariska Nicholson to get a deeper understanding of their innovative products and their goals in the industry.
What was the motivation for starting Olive + M?
"I have been using oil on my skin for as long as I can remember. A friend of mine gave me a bottle of face oil as a gift, and I used it to the very last drop. When I went to repurchase it online, I saw that it was $200! I was a single mom at the time and I realized that wasn't possible with my budget. I have a culinary background so I decided I was going to research the ingredient deck, get in the kitchen and make my own."
"I had been using the usual oils normally, but I didn't know about things like pomegranate seed oil or some more unusual ones. So, I just got really educated on all the different plant-based oils and extracts. I wanted to make an effective formula that a single mom could afford. All the products in our line are formulated for me because I figure if I have these problems or desires then there are other women out there that do too. And that's how the face oil was born."
"I say all the time that Olive + M wanted to be born, and she just chose me as her person because it just happened to me so organically. She is the matriarch of the brand and everything just came on a routine need."
How do Olive + M products nourish the skin?
"The reason we chose olive oil as the base of the formulas is that the size and the shape of olive oil mimic your skin's natural oils, or your sebum, which is the scientific term for that. When you apply it, your skin recognizes it. It pulls it in immediately, so it doesn't just sit on your skin, it actually penetrates the lipid layer."
"All of the plant-based oils we use are super high in antioxidants, omegas, vitamins, and minerals. In the face oil, we include rosehip seed oil, which is really high in vitamin A, also known as retinol. So, it's Mother Nature's version of retinol. It's also high in vitamin C! Just like you would want to eat a diet that is rich in all these things, this is a way to apply that directly to your skin and have the benefits on your largest organ -- your skin."
How does Olive + M encourage sustainability and wellness?
"I think you lead by example. I work out every single day, it is my brain drain. If I'm not moving my body I can't think clearly. Getting your endorphins going, sweating, and detoxing is so important. I have a healthy lifestyle and practices, so I talk about this a lot with my team. I am sharing new mushroom supplements and new findings I've found with my team and vise versa. Wellness is a constant conversation that we are always having and sharing."
"In terms of sustainability, we try to do all the practice we can, including how we formulate, our packaging, and our shipping system. We look at the supply chain from start to finish and stay on top of the newest technology so we can always be doing the next best thing."
"We are cruelty-free and Leaping Bunny certified. We try to stay on top of certifications so that we can pass on information to our community. We are partners with "TreeApp", so for every purchase that is made on our website, we plant a tree."
"Additionally, our Olive + M travel bags are made by a Women's Co-op in India, all of whom are sexual abuse survivors. We try and always look for new ways to give back. We volunteer in our community in cleaning efforts and local gardening. All of our ingredients come from Mother Nature so we are very much concerned with her well-being, and how we can be part of the solution and not a part of the problem."
What is the one thing you would like customers to know about Olive + M?
"I always say that Olive + M is more of a lifestyle brand than a beauty brand. We love our customers, and we care about them. We want to be in a club and a community with them. My vision was to create this skincare ritual routine that was effective, and affordable. Something you could take your time with, making it a ritual, or that you could do quickly and get out the door, running to your yoga class, office, or boardroom. Beyond just doing skincare, we love to talk about all the things we are passionate about including mental health, food recipes and wellness. We want to build a community and be there for our people, and we want our people to be there for us; to interact with us, tell us what they're thinking and what they want, and to share their stories. I think that's what makes the world go around, feeling heard and being a part of something. Feeling taken care of and loved. I just want them to know that I have a big hug waiting for them."
If you would like to learn more about Olive + M and their products, you can follow them on Instagram and visit their Website.