FREE SHIPPING + FREE RETURNS
Hi, it looks like you're located in Canada.
Hi, please confirm your shipping country.
Let's make sure you're shopping on the right Navago site.
Organic Skincare: A Chat with Kunye Founder Melissa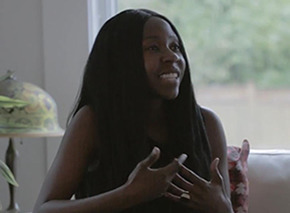 Too many people seem to think that buying organic products means that they will have to compromise. They worry the products won't work as well with their skin as the non-organic options. But with Kunye, there is no compromise. Creator Melissa stands behind the quality, purity, and the performance of her products. Here's what she has to say about her personal journey.
Navago: I'm still surprised by how many people don't pay attention to what's in their beauty and personal care products. Do you see this changing?
Melissa: Change in the beauty industry is very similar to what we've seen in the food industry. There was a time when we shoved things in our mouths and didn't ask questions. And then people started to question what was in their food, and everything changed. This is just starting to happen with natural skincare and beauty now.
There are now more conversations about ingredients then ever before, and the caliber of offerings in the organic product space has come one hundred and eighty degrees. Not only are there more healthy options available, but those options are chic, they're well formulated, and use great natural ingredients.
Navago: How do we typically learn what products we should be using?
Melissa: A lot of times, we use what has been passed down to us. People often use the same products their mother used, or ones they learned about from someone a long time ago and just never changed their routine.
99% of the time, however, they learned from someone who was trying to sell them something. When we start to recognize where we picked up these habits, we can learn to question why we do things a certain way and whether there's a better way.
Navago: What motivated you to make your own product? Did you have any guiding principles?
Melissa: Well, I have sensitive skin, so finding products that worked for me was challenging. Being dark skinned as well just blew it out of the water. With all those issues, it was natural for me to take a minimalist approach. The more I researched and tapped into my family's history, the more I learned about natural skincare options that generations of women had used to improve their skin. It made sense for me to figure out how these natural remedies could work for me, and to pass that on to my friends and family.
Navago: You produce your natural products in small batches. Why is that important to you?
Melissa: Another thing that's really important to me is making our products in small batches. I think it's really odd that you can buy skincare products in big tubs and they can sit in your bathroom for years. When I buy something I want to know it was made recently, that it's fresh, and that I'm getting the most potent product possible.
Navago: You talk about "integrative skincare". What does that mean to you?
Melissa: I am a huge advocate for integrative skincare. It's the idea that what you see in the mirror is really a symptom of something going on deeper inside of you. Skincare isn't a one-stop shop. You have to think about how much you exercise, the food you eat, and your stress levels. What really makes Kunye different is that we're here to educate people about this connection between what we see on the surface and what's going on internally.
Navago: Your company name is pretty unique. How did you come up with the name?
Melissa: So, my biggest inspiration for the business, and the person who really pushed me to move forward with it was my mom. When I was trying to think about a name for my business, I wanted a name that meant oneness, holistic, and unity. My mom's native language is Zulu, but I don't speak it, so I asked her what the Zulu word was for oneness and she said it was 'Kunye'. And I really loved it. I loved its flow, and how it didn't have a meaning in English so I could connect it to these philosophies.
Navago: What led you to start a new business?
Melissa: About five years ago I started making my own natural skincare products and sharing them with friends and family. They tried them and raved about how good they were and essentially encouraged me to do something more with them. And then around two years ago I decided to turn all the work I'd done into this business.
Navago: Starting a new business sounds romantic, but it's never easy. What motivates you and keeps you going? What were your biggest challenges?
Melissa: The feedback I get from the people who use our products is probably my favorite part of running this business. And the most positive comment I get is that the products work. I really make a point to be honest with customers so it's very rewarding to hear them say 'what you said would happen is really happening'.
As for challenges, there's a lot of them. But being a one woman show and trying to wear all the different hats is probably the most difficult thing. But it's also been the biggest blessing and the biggest opportunity. As a woman, as an individual, as a female entrepreneur, I have grown so much just from saying that I'm going to be all-in and face these challenges. It's been really, really rewarding.