FREE SHIPPING + FREE RETURNS
Hi, it looks like you're located in Canada.
Hi, please confirm your shipping country.
Let's make sure you're shopping on the right Navago site.
Healthy Nails: A Chat with AILA Founder Dr. Cary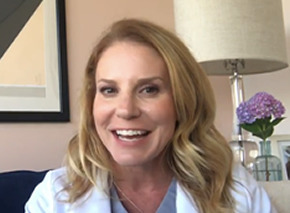 Every woman wants to look and feel beautiful; sometimes that means using products to enhance and show off your natural attributes. All too often, our choices are dominated by products that have toxic or questionable ingredients. But with AILA, you can have it all, non-toxic makeup that is functional, beautiful and will actually make your nails stronger and healthier. Creator and Podiatric surgeon Dr. Cary has seen what harsh nail lacquers and polish removers can do to nails, and has designed her products to actually improve the health of your nails and skin. Here's what she has to say about her personal journey and the non-toxic nail products she creates.
Navago: So, just to start out, can you tell us a little about your life before AILA?
Dr. Cary: Well, I'm a Podiatric surgeon from Tennessee. I was going through a very challenging time in my life before I started AILA, and I was at a point where I was over-functioning and had worn myself out. I called my friend Tracey, and instead of taking me to a bar for a drink, she took me to a juice bar. She said. "Look, you do this wheatgrass shot and start taking care of yourself. Because if you don't, everything is going to fall apart." She was right, so after that I started cutting everything toxic out of my life. I regrouped and redefined who I was because I recognized that in a bad cycle, the only thing I could control was me, and if I didn't change myself, the cycle would never end.
Navago: And how did AILA come from all the changes you were making?
Dr. Cary: At around the same time I was selling an alternative brand nail polish in my office and it was making a lot of health claims that didn't seem to be backed up by the chemistry. I called the company and asked for their ingredients list, which every company has to have, but they wouldn't send it to me. This went on for two weeks, and finally I got mad and decided to make my own non-toxic nail polish products. I worked with a lab in California to come up with the final formula, and I still work with them to keep current.
Navago: Why non-toxic nail lacquer specifically? I know your work as a Podiatric Surgeon must have influenced that decision.
Dr. Cary: I have a lot of people who come into my office because they're using products that are very damaging to the nail. Their nails turn yellow and they get rashes because of the chemicals. To be fair, you can't make cosmetics without chemicals and chemistry. Chemistry is everywhere, it's the air we breathe and the water we drink. But the goal for AILA is to find a balance. We want to make something that's beautiful, but also healthy. One of the problems with some non-toxic makeup products is that they don't function. I'm a surgeon and a busy mum, and I need my products to function or they're out the door. So there has to be a balance between all three of these components: function, beauty and health.
Navago: What's AILA's most popular product?
Dr. Cary: The non-toxic nail polish remover is our top selling product. It's an alternative to acetone and acetate based removers which basically desiccate the nail, stripping it of all its natural, healthy oils. We want to maintain the oil, which is important for nail health and strength. Our soy based remover not only removes the lacquer, it works on the nail to treat and nourish it.
Navago: Can you tell us a little about the formula for AILA's non-toxic nail lacquer?
Dr. Cary: From my perspective, I think water based polish is a great idea, but for me, it wasn't the right formula. Our lacquers are created using an anti-bacterial, cellulose based formula that eliminates every chemical that we possibly can to maximize health. There's a whole list of things that aren't in our product including parabens, gluten, formaldehyde, and camphor.
Navago: Your products have some really quirky names, how do you come up with them?
Dr. Cary: We have a lot of fun with the color names and the stories are mostly something stupid I've done, or something funny that's happened to me. Like the story behind the 'No Panty Wednesday' color. That one's based on a day when my staff called me and said "Wear your big girl panties tomorrow, it'll be a rough day" and I said "No. Nobody wear panties tomorrow, and it's gonna be awesome." So all my medical staff came to work that Wednesday without panties and it was like, the best day.
Navago: Do you think there's an educational process for your products, or do people know more about non-toxic makeup products these days?
Dr. Cary: I think people have been screaming for healthier options, and the community is finally listening and able to provide these products. You look across the board at other related industries and everybody is making changes. The beauty industry is just following suit, and I think that's much needed.