FREE SHIPPING + FREE RETURNS
Hi, it looks like you're located in Canada.
Hi, please confirm your shipping country.
Let's make sure you're shopping on the right Navago site.
Fall Skincare: Transitioning from Summer to Fall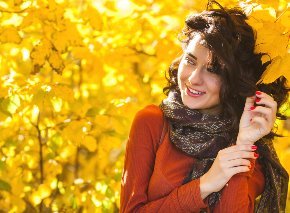 We're all accustomed to changing our wardrobe as summer winds down and cooler weather arrives. But what about our skincare routine? Shouldn't our faces and bodies be treated with the same seasonal considerations? Of course! Each different season presents its own unique set of challenges for keeping our skin healthy and looking great. Here's to making a smooth and meaningful transition!
With less sunlight and cooler air, our skin naturally produces less oil and can start to feel dry and taut. This may be an indication that we need to focus on repairing any lingering damage from exposure to the summer sun. Once we've ensured we're well hydrated from head to toe, we can prepare our faces and bodies from the even drier and colder air that's just around the corner.
Here are the ways we transition to fall. We're passing these along to help your skin 'weather' the change of season:
Cleanser: Depending on your skin type (normal, oily, dry or combination), it's important to select a cleanser that won't strip your skin of its natural oils. Switching from a warm weather suitable, gel-based cleanser to a creamier option, provides a foundation for adding extra hydration.
Choose a cream- or milk-based cleanser that is non- or minimally-foaming. Humectants (foaming agents) in highly foaming cleansers can strip your skin of its natural oils. Non-foaming cleansers or those with fewer humectants typically have a greater number of hydrating ingredients (surfactants) that will further help prevent loss of moisture from your skin.
This same principle also applies to your shower and bath products. It's time to forego the more astringent and scented bath soaps and switch to a hydrating cream-based or oil-infused soap or gel.
Toner: Never use a toner that has alcohol as it will be drying and harsh, regardless of the season. Choosing a toner that's crafted with a natural astringent like witch hazel that will not strip the oils from your face, and your skin will remain soft and hydrated.
Serum: This is an essential step in your skincare regimen. Be sure to add this extra moisture to your fall skin routine, applying a layer of serum in the morning before applying day cream. Choose either a cream-based serum or one made using a natural oil. Either will make a noticeable difference in the look and feel of your complexion.
Moisturizer: A lightweight facial moisturizer is usually the way to go in the summer, but switch to a heaver formula, if your skin can tolerate it, as the weather begins to cool down. Opt for a creamy moisturizer in the morning and an even richer one, like cold cream, at night. This will provide critical hydration while you're sleeping and ensure you wake up with softer skin the next morning.
Face Mask: Apply a facial mask at night once a week. Be sure to choose one that's hydrating and purifying. A hydrating mask can be beneficial for those with sensitive skin and may help to soothe redness and irritation with its cooling effects.
Hands & Feet: Your hands and feet need some love too! Apply your favorite natural hand cream daily or twice daily, occasionally adding cuticle oil to your routine to help hydrate dry nails. Use a good, heavy and soothing foot cream every day after your shower or bath and anytime they're feeling dry. Invest in a good foot scrub and pamper your feet by removing dead skin. Follow with foot cream and your feet will be very appreciative after they've been stuck inside your shoes or boots for a good part of your day.
Eyes & Lips: It's important to choose a hydrating cream for the delicate skin around your eyes. Gently massaging in a tiny amount will help prevent fine lines, dark circles and puffiness, and can revive tired looking peepers. Also be sure to stock up on a natural lip balm that will protect your lips from the cold air, keeping them hydrated and soft. For some of us, lip balms are an all year necessity but in the cooler, drier months nightly application is essential.
Bath & Shower: Taking a hot shower or bath may sound tempting, but try to keep the water temperature lukewarm as very hot water may remove moisture from your skin. Also, be sure to apply body lotion or cream after each and every shower to keep your skin hydrated.
Hair: And don't forget your tresses! All that summer sun, wind and salt air can wreak havoc on our hair. Now's the time to pamper yourself with a moisturizing mask that will replenish critical oils and condition your locks.
Sun Protection: Summer may be over, but that doesn't mean you should put the sunscreen away. Even though UVB rays aren't as strong, the UVA rays that cause skin aging still pack a significant punch. Be sure to apply a natural, broad spectrum sunscreen every morning 20-30 minutes before you step out for the day and make this a habit whatever the weather may be. And don't forget to re-apply as often as needed.
The changing weather doesn't mean you have to overhaul your skin care routine, but these small alterations in the products you're using will have a positive effect and help your skin thrive throughout the fall!