FREE SHIPPING + FREE RETURNS
Hi, it looks like you're located in Canada.
Let's make sure you're shopping on the right Navago site.
How to Get Adult Acne Under Control With Natural Solutions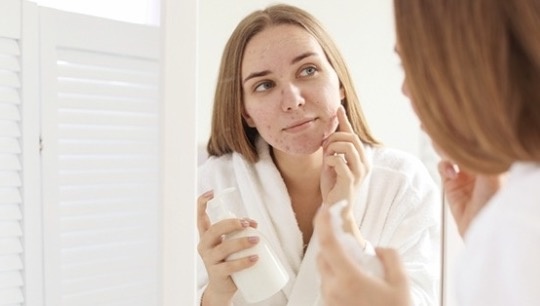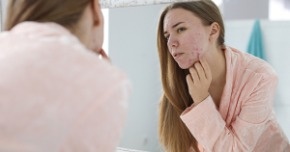 You've outgrown gym class and puberty (thankfully). So, what's up with your adult acne? If you have a regular skincare protocol down pat and there are no medical reasons for your breakouts, it's time to take a look at the products you're using on your skin.
The skincare products used to treat breakouts often make the situation worse, and here's why. The age-old tactic has been to deal with acne by drying out the skin. Less oil, fewer pimples, right? Not exactly. As it turns out, dry skin can actually lead to an increase in breakouts.
Then there are those cosmetic ingredients that are common culprits behind adult acne, ingredients that clog pores and create a barrier on top of skin.
Before you purchase yet another conventional acne product, take a moment to learn why you're breaking out and how natural acne solutions can improve your skin's appearance.
Adult Acne Causes and How to Avoid Them
Diet, stress, and hormones can all be potential causes of adult acne, but the first place to start is by looking at the skincare and beauty products you use. If you use typical over-the-counter products, you'll likely find a number of different ingredients that dry out the skin and cause breakouts.
Drying Ingredients: Most acne sufferers have reached for a drying agent in an effort to clear their skin. But when your skin is dry, its top layer becomes flaky and the skin produces extra oil to make up for the oil that you've stripped away. This oil then becomes trapped under the dry, flaky top layer of skin, causing dirt and makeup to block pores, with breakouts quickly resulting. Avoid alcohol, benzoyl peroxide, and salicylic acid.
Silicone Ingredients: It's difficult to walk into a drug store or beauty department and find a moisturizer, foundation, or concealer that doesn't contain silicones. These are added to make the skin feel soft and silky without looking greasy. The problem with silicones is that they create a barrier on your skin that can clog pores and limit the skin's ability to draw moisture from the air, causing, you guessed it, dry skin. The most widely used silicone ingredient in conventional skincare and makeup is dimethicone. Others to steer clear of are methicone, phenyl trimethicone, and cyclomethicone.
Irritating Ingredients: While drying agents and silicones can cause irritation, there are certain ingredients in conventional cosmetics that are known irritants. Acneic skin, like any skin type that is experiencing inflammation, redness, or disruption should be handled with special care. Sodium lauryl sulphate (SLS), used in cleansers, especially the foaming variety, is linked to allergic reaction on skin. Likewise, synthetic fragrance ingredients as these come with a long list of known adverse reactions, irritation among them. And synthetic preservatives, like parabens and methylisothiazolinone, as these can cause feelings of irritation.
A Natural Approach to Improving Adult Acne
The good news? There are natural acne solutions that work. You may need to rethink your acne fighting protocol but it's worth it. Follow our handy checklist for dealing with adult acne:
✔ Ditch harsh cleansers and swap them out for a gentle facial cleanser made with natural oils, like babacu or copaiba, for a soothing and balancing feel that leaves skin looking calm and clear.
✔ Forget drying toners and choose a toner or facial mist that is designed to give skin a calm, cool, and balanced feel. Those made with witch hazel, rose, and geranium reduce the appearance of redness and irritation. If skin is feeling especially sensitive, splash with cool water after applying toner and pat dry.
✔ Regular use of facial masks, patches, and spot treatments are effective ways to keep blemishes in check and skin looking clear. Clays cleanse away impurities without causing feelings of irritation. Turmeric, neem, and sandalwood all have decongesting properties that cleanse pores. Tea tree oil is a popular ingredient in natural acne solutions for its ability to visibly reduce pimples and acne scars.
✔ Lightweight oils that make skin feel purified are the perfect fit for acne prone skin. Try products made with jojoba and aloe vera to keep skin feeling calm and lightly hydrated.
Harsh conventional acne treatments are not the best options for adult acne. Natural skincare for acne is a gentler, more effective path to clear, healthy looking skin. A few easy product swaps and you can be on the road to a beautiful complexion.