FREE SHIPPING + FREE RETURNS
Hi, it looks like you're located in Canada.
Hi, please confirm your shipping country.
Let's make sure you're shopping on the right Navago site.
Spring Rejuvenation: How to Look and Feel Your Best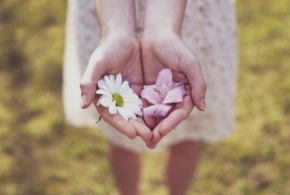 The warmer days of spring are an instant mood booster. Too bad our bodies don't switch seasons quite as quickly, or as easily. If you're feeling a little sluggish, packing a few extra pounds, or just tired of looking at your pale skin, take heart. There are ways to improve the way you're feeling that are faster, easier and tons more fun than a seven-day cleanse.
5 Ways to Look and Feel Your Best for Spring
1. Family Affair: Chances are you're not alone in trying to shake off the effects of winter hibernation. Getting your spouse and kids involved will not only make your efforts more enjoyable but will get your family healthy too. Spend time outdoors together on the weekends. Make grocery shopping a family pastime. Have the kids come up with healthy dinner ideas or help prepare meals.
2. Feelgood Foods: What you eat shows up on your body and skin. No surprise there. But did you know food can also affect your mood? An imbalanced gut microbiome can cause dull skin, breakouts and digestive issues. It can also lead to increased feelings of stress and depression. Ditch the processed and sugary foods and opt for healthier eating to look and feel your best. Stock up on organic, seasonally fresh fruits and vegetables, whole grains, lean sources of protein and healthy fats. To make sure you are getting enough good bacteria in your gut, add in probiotics from supplements, kombucha, kimchi or sauerkraut. And don't forget plenty of water, too.
3. Skincare Cleanse: There are some excellent skincare swaps that make sense for the season. Try using a detoxifying masque to slough away dead skin cells and clear pores, creating a smoother skin texture and revealing a healthier, more youthful appearance. Eye serums made with naturally brightening plant ingredients can visibly reduce dark circles and make you look more awake. A brightening facial serum is another skincare addition that whisks away the aftermath of a long winter.
4. Nighttime Reboot: No need to eliminate those heavy moisturizers and skin balms. Use these at bedtime to give skin a healthy dose of hydration and you'll awaken to nourished skin. If you feel these are too heavy for the season or are causing breakouts, try a nighttime facial oil made with richly hydrating ingredients. A spring rejuvenation beauty trick – add a few drops of oil to a hydrating facial mist, blend between fingertips, and pat onto skin for a refreshing feel.
5. Fresh Sense: The tulips and daffodils are beginning to surface, and fresh foods sound more appealing with springtime's arrival. Make the most of these heavenly scents that have mood improving properties too. Citrus is cleansing and refreshing, gardenia relieves feelings of depression and anxiety and clears the mind, and jasmine increases feelings of calm and improved libido. Use essential oils in a diffuser to create a home fragrance. Or use skin and body care products that include these ingredients, which all hold beauty benefits, as well.
A few simple substitutions and additions to your routine, and you'll be feeling fresh as a daisy in no time. Cheers to budding beauty and a healthier feeling you.