FREE SHIPPING + FREE RETURNS
Hi, it looks like you're located in Canada.
Hi, please confirm your shipping country.
Let's make sure you're shopping on the right Navago site.
Day to Night Green Beauty Makeup Tips for Women Over 40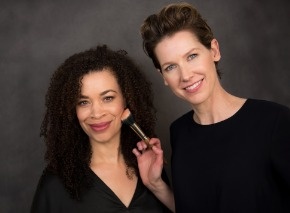 We all know how time consuming and frustrating it can be to shift from a daytime look to a nighttime look. Do you layer more makeup over what's left from your morning application? Wash your face and start over? Forget it altogether and go as you are?
Kristen Arnett takes the guesswork out of updating your everyday daytime look to something a bit more dazzling, with her simple, easy and complementary green beauty makeup tips.
Kristen Arnett's Day to Night Makeup Tutorial for a Sophisticated Look
There's nothing quite like having a bit of professional makeup artist knowledge in your back pocket for freshening up on-the-go. When you follow Kristen's day to night makeup advice you can go out feeling confident that you're looking your best, as well as taking care of your complexion! Find out how to create this sophisticated evening look for women over 40 by watching the video - it's like a mini morning to night makeover at your vanity, desk, or even in the car.
Four essential day to evening green beauty makeup hints:
Streamlined and Straightforward: We're usually quite pressed for time by the end of the day and we need evening makeup tips that don't require a lot of effort. Products that are easy to apply and come in convenient packaging, like sticks for both cheeks and lips, can travel anywhere and save precious minutes.
Naturally Moisturizing: Nothing looks quite so fresh and revitalized as plump, vibrant skin. And the quickest way to achieve this look is with healthy hydration. Makeup products that make skin feel moist and nourished are key to a successful morning to evening makeover. Don't forget your lips!
Brighten and Refresh: No need to completely wash your face and start over. Kristen shares her techniques for how to refresh makeup for evening in a snap! A hit of glow-boosting mist and a touch of brightening ingredients will make it look like you've had time for a nap.
Subtle Switches: Low key modifications to your daytime look can have a big impact. Keeping colors neutral makes shifting from work to play just about seamless. Think neutrals in a deeper hue than you use for daytime or with a hint of shimmer for a more intense look. Remember, nighttime lighting is dimmer and diffused, so make sure you use colors that stand out on eyes, cheeks, and lips.
An assortment of perfect, natural beauty products, some handy day to night makeup tips, a couple of makeup brushes, and a sultry natural perfume are all you need to go from day to night with style. Stow items in a makeup bag and place in your desk drawer so the essentials are always on hand and you're ready for spur of the moment evening fun!
Watch Kristen perform her day to night magic, here…