FREE SHIPPING + FREE RETURNS
Hi, it looks like you're located in Canada.
Hi, please confirm your shipping country.
Let's make sure you're shopping on the right Navago site.
People Who Age Well: How Exercise Makes You Look Younger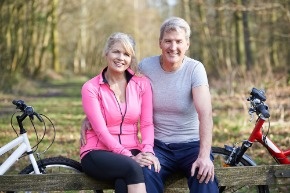 Aging may be a fact of life, but that doesn't mean you can't stay fit and healthy along the way. Whether you have maintained a healthful lifestyle over the years or are just getting started, instilling certain habits of people who age well will keep you looking and feeling your best.
No surprise, these habits are not a quick fix for low energy or a temporary plan for getting in better shape fast. We are talking about implementing strategies that fit into your life and work for the long term.
Since there are many aspects to aging well, we decided to make People Who Age Well a series. Stay tuned as we cover everything from diet to sleep. We're kicking things off with talk on how exercise makes you look younger and tips on how to age well and stay fit for life.
People Who Age Well: Exercise and Fitness as You Age
Let's talk muscle. Low muscle mass not only makes what were once easy tasks much more difficult, it can lead to serious health issues and low quality of life. Research shows a decline in muscle strength of between 16% and 40% after 40 years of age. The good news is that muscle is one thing you can gain back.
Preventing muscle loss as you age is key for bone health too. A study shows that low muscle mass also leads to low bone density, which increases the risk of fractures and associated health issues.
Resistance training is one of the best ways to strengthen muscles. This may conjure images of heavy duty weight training, but resistance training simply means working out with weights that suit your fitness level. Choose the heaviest weight you can comfortably lift for 8-10 reps. Even if you have to start with one-pounders, you can always increase weight as you gain strength. Resistance bands offer flexibility, are less expensive than a weight set, and can be used at home. Start out with lighter resistance and work your way up. You can also do body weight exercises or hit the gym and use weight machines. The key is to make resistance training a part of your regular fitness program.
Another lesser known but hugely important factor in exercise and aging is that regular workouts protect your DNA. Aging causes cellular deterioration and regular exercise decreases this process, resulting in reduced risk of developing disease. Active adults show both reduced cellular aging and improvement in DNA damage that already existed.
Keeping your DNA in good shape has external benefits too. Yes, regular exercise makes you look younger! A study shows that both men and women over 40 who are regular exercisers have skin that looks more like a 20 or 30 year old, including those over 65. Even participants new to exercise showed a significant increase in their skin's appearance after three months of twice weekly moderately strenuous aerobic workouts. Shoot for 150 minutes of moderate or 75 minutes of vigorous activity, or a mix of both, each week.
This is terrific news for those looking to turn back time on the way they look and feel. Remember to start slowly when beginning a new exercise routine, increasing intensity as you gain strength and stamina, and don't forget to stretch before and after working out. It may be tempting to jump right into a vigorous program, but an injury is a discouraging set back.
One thing to keep in mind. No amount of exercise can correct sun damage, so be sure to wear mineral sunscreen made by natural skincare brands when jogging or walking outdoors, or find out how to workout indoors.