FREE SHIPPING + FREE RETURNS
Hi, it looks like you're located in Canada.
Hi, please confirm your shipping country.
Let's make sure you're shopping on the right Navago site.
3 Easy Tips for the Best Zero Waste Beauty Routine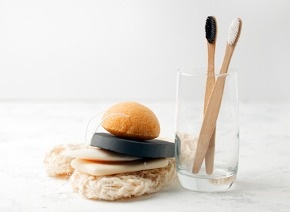 If you've ever considered how much trash you and your family create in just one day, it was likely a bit of a shock. Wondering how those at the forefront of the zero waste movement do it? Tiny steps in the right direction. A zero waste beauty routine is the perfect place to start and it feels good too! Here's a rundown on what this whole movement is about and how it goes hand-in-hand with maintaining a healthy lifestyle.
What Does Zero Waste Mean for Beauty?
Any beauty product that doesn't generate wasteful byproduct is considered zero waste. While being truly waste-free is an ideal the beauty industry has yet to achieve, consumers care more than ever about the sustainability of their products.
Brands are joining the zero waste movement with innovative packaging and formulas. With the trend toward zero waste beauty, now more than ever brands have to adopt the principles of sustainable and slow beauty if they want to meet consumer demand. And natural indie beauty brands are leading the way.
As a shopper, you can do your part by being a conscious consumer. This means buying less, buying only what you need and love, and researching where your products come from. Read on to learn what to look for in a zero waste routine.
3 Tips to Creating a Zero Waste Beauty Routine
1. Go Waterless: Some brands have removed the water from their formulations to cut down on shipping water weight and water shortages. This also means the product lasts longer—a win for you and the environment. Try shampoo bars, lotion bars, and waterless skin serums (like facial oil blends). Even tooth powder is water-free.
2. Opt for Sustainable Product Materials and Packaging: Check for packaging made from recycled and recyclable materials. Glass is a great packaging option because it's recyclable and reusable. And bamboo packaging is a sustainable alternative because it grows quickly and with less water. Pick up a bamboo toothbrush to use with your tooth powder and don't forget to turn the water off between lather and rinse!
3. Ditch Disposables: The best zero waste makeup routines are free from disposables. But single-use plastics can be tricky to avoid with cosmetics. Replace single-use makeup wipes with reusable face cloths and a great cleanser. Choose razors where you can swap out the blade rather than pitching the whole thing in the bin every week or so. Steer clear of plastic packaging, including pumps and small plastic components. Even feminine hygiene has gone zero waste. Using organic cotton menstrual pads cuts way down on waste.
Remember, going completely zero waste is no small task. Aim high but keep your expectations reasonable. The best places to make these small changes are in routines that you have control over, like your beauty routine. A little research goes a long way in creating a zero waste beauty routine that's good for your body and soul, naturally. In the zero waste movement, everything counts!