FREE SHIPPING + FREE RETURNS
Hi, it looks like you're located in Canada.
Hi, please confirm your shipping country.
Let's make sure you're shopping on the right Navago site.
Are Mature Women Waiting on the Sidelines of Beauty?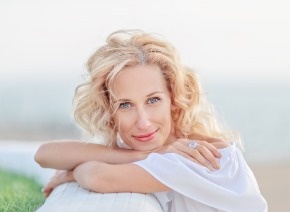 Women over the age of 40 may feel like the beauty industry doesn't make room for mature women. Often the only products that are marketed to this age group are labeled "anti-aging". This sends a message that aging is something to be avoided, prevented, or covered up.
We'd like to dispel the notion that growing older is a negative. The unique beauty of maturity only comes from experience and a life well-lived. It's all about aging well and being comfortable and confident in your skin.
Mature Women Feel Beautiful but Not Seen
An AARP study on mature women and the beauty market revealed that, while 60% of women embrace their age and feel they look beautiful at any age, approximately half of women aged 39-73 feel the beauty and personal care industry is lacking when it comes to creating products for their age group.
Another area that is falling behind appears to be products addressing hormonal skin issues. Seventy percent of women 40 and over would like to see more items designed for those in perimenopause and menopause.
This deficiency in the beauty marketplace affects how women shop. And since mature women make up around 30% of the population, tend to have a larger disposable income, and often prefer higher-end products, it makes sense to meet these demands.
The term "anti-aging" is beginning to be seen by some in the beauty industry as a negative term. And truly, who wants to look 20 when they can look beautiful for their age? Aging well feels and looks best on everyone.
Mature Women Beauty Needs
Aging skin that has lost elasticity needs moisture and hydration. A moisturizer is an oil-based ingredient that acts as a seal on your skin, so moisture can't escape. A hydrating ingredient is also called a humectant. These ingredients, like hyaluronic acid and aloe vera, draw moisture from the air to your skin.
Products that contain both moisturizing and hydrating ingredients are best for mature skin. Your skin may begin to feel drier as you age and even oily skin needs proper moisture and hydration for a balanced, healthy, and glowing appearance.
The most important investment you can make in your skin is to wear an SPF every day. Daily UV protection keeps skin looking even toned and wards off the appearance of sun damage.
Vitamin C is also a great addition to your skincare routine. This ingredient helps to visibly diminish sun damage and lends a brightened look to the skin. Look for natural skincare brands that include vitamin C.
You can find a balance between accepting your skin as it changes and doing what you can to age well. Try our tips to addressing the most common concerns of mature skin. And use your purchasing power to support brands who create products for mature women beauty needs.