FREE SHIPPING + FREE RETURNS
Hi, it looks like you're located in Canada.
Hi, please confirm your shipping country.
Let's make sure you're shopping on the right Navago site.
Why Self-Care Is the Answer for Holiday Burnout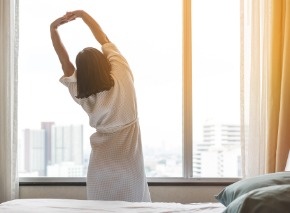 Even the most joy-filled holidays can whip through your life like a tornado and leave you feeling stressed and fatigued. Holiday burnout is real and it's no way to ring in the New Year. Read on for easy self-care tips and find out how spending some extra time on yourself diminishes feelings of post-festivities frazzle.
6 Simple Self-Care Tips for Holiday Burnout
1. Make Skin Feel Balanced and Calm
If you are experiencing dry flaky patches on your face or maybe a holiday blemish has made an appearance, extra love goes a long way to addressing signs of unhappy skin.
Remove all makeup before going to bed, and apply organic and eco-friendly beauty products with ingredients that make skin feel soothed and nourished. Look for products with aloe or cucumber for a feeling of hydration, and consume plenty of water and fresh fruits and vegetables to hydrate from the inside out.
2. Indulge in Scalp Massage
When was the last time you had a good massage? One of the best things about scalp massage is that you can give one to yourself.
Not only does a scalp massage feel amazing, research shows it makes hair look thicker too. Simply warm a small amount of a delicious oil blend – coconut, jojoba, and rose oils are especially beneficial to hair – between palms, then massage into scalp and work through to ends. Allow oil to remain on hair and scalp while you relax for 20 minutes or more, and shampoo as usual.
3. Give Your Digestive System a Break
Chances are you've indulged in food and drink over the holidays. Who doesn't? There's joy in the comfort, nostalgia, and yumminess of holiday treats and beverages. But it can take a toll on your digestion.
Try waiting until you feel hungry before eating and up your intake of greens. Warm spices, like cayenne and ginger, provide a feeling of stimulated digestion and inner balance.
4. Get Sleep on Track
The hustle and bustle of the holidays means your schedule is overloaded with parties, shopping, and cooking on top of your regular obligations. Sleep schedules are sometimes put on the back burner. Take this time after the holidays to get serious about your beauty sleep. Most adults need between seven and nine hours of quality sleep every night.
If your schedule doesn't allow you to sleep in, try heading to bed earlier. Resetting your internal clock can take some time. Make it easier by creating a bedtime ritual that helps you wind down. Calming scents are a great way to tell your brain that it's time to rest.
5. Quiet Down
Your nervous system is overloaded with sounds, tastes, and visuals during the holiday season. One of the best ways to promote a self-care reset? Get some peace and quiet!
Whether it's a hike in nature, 30 minutes on your meditation cushion, or a relaxing hot bath – set aside time to be still. Without extra stimulation, your body and mind relax into the present moment, giving you a feeling of calm and wellbeing.
6. Move to Your Own Rhythm
It can be tempting to ramp up your workout routine post-holidays. But adding extra miles to your run or pushing yourself to lift more weight or show up to extra classes can add to your burnout.
Instead, try adding gentle movement to your routine. Mellow yoga, especially if it includes a life affirmation, is restorative and reduces feelings of stress. Listen to what your body wants.