FREE SHIPPING + FREE RETURNS
Hi, it looks like you're located in Canada.
Let's make sure you're shopping on the right Navago site.
6 Reasons Indie Beauty is Finding More Space on the Shelf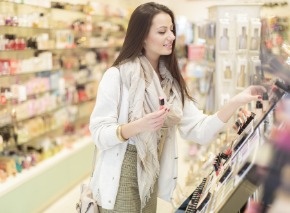 Indie beauty brands are growing and making their way into larger retail venues. And while many consumers still prefer to shop smaller spots solely focused on natural beauty, these bigger retailers mean natural indie beauty brands are reaching more and more people.
We asked some of our favorite indie beauty brand founders why they think indie beauty is seeing a more prominent place on store shelves.
6 Reasons Indie Beauty is Growing
1. Impact
I think indie beauty and wellness brands are finding a space on the shelf because they have an opinion – one that's usually based on a founder's values, insights, or perspectives," said Rosebud Woman Founder Christine Mason. "These perspectives are often clouded out in more corporate product launches, which seem to look for what appeals to an average mainstream user, and no actual person is average. Entrepreneurs have different risk profiles than corporate people and are in it for different reasons – to create and build something unique or impactful and see it make a difference."
2. Intention
"The indie beauty topic is very near and dear to my heart as a 'mamapreneur' who mindfully hand-makes every single product with love," said Freda & Wolf Founder Hilde Schirmer. "And that's exactly what makes indie beauty different from all other beauty products: intention. Producers of indie beauty products are artisans who tend to be conscious about the sourcing of ingredients and packaging. Supporting indie brands supports entrepreneurs with integrity who deliver products that feel like gifts."
3. Something New
"Stores themselves seem to be willing to take risks on new brands in ways they weren't years ago," said Mason. "The retail experience seems to require newness and curation to bring people back from online shopping to try new things. We've been really fortunate, in our first year in market, to see not only the high concept and disciplined clean green beauty buyers at indie-retail pick us up, but also to get the nod from [larger] general retail."
4. Addressing Pain Points
"Indie Beauty is about real people making products that they're passionate about and that address real pain points they've experienced themselves," said Naa-Sakle Akuete, Founder of Eu'Genia Shea. "That leads to products that actually work and brands that treat their customers like human-beings as opposed to dollar signs."
5. Story Meets Specialization
"Indie beauty brands are usually created as passion projects, by people like you or me," added Joyce and Jenny Tse of Velvette Organics. "We craft formulas that we truly believe in and love, and aren't mass produced with the intention to capitalize on profits or trends. Each indie beauty brand has their own story and specialization. At Velvette, we've dedicated extensive efforts to curate the most cosmetically elegant, luxurious feeling oils for face, body, and hair that are natural, organic, and feel velvety soft!"
6. Creative Authenticity
"Indie beauty is more appealing because there is a passion, purpose, and true authenticity behind the actual brand," said Gia Minerals Founder Georgina Tzavaras. "They are independently owned and operated, doing something unconventional by offering clean ingredients, yet with a creative aspect from a personal approach to the brand because there is an appreciation, love, and involvement by the owner."
Natural indie beauty brands have definitely created a solid space for themselves in the beauty market. As Christine Mason put it, "It's challenging to scale to serve a large company. But to get our products in the hands of that many more women, it's worth it."