FREE SHIPPING + FREE RETURNS
Hi, it looks like you're located in Canada.
Hi, please confirm your shipping country.
Let's make sure you're shopping on the right Navago site.
5 Powerful Sustainable Beauty Benefits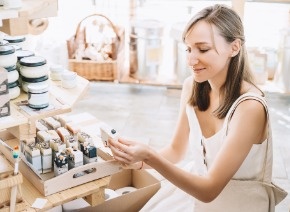 "Sustainability" has become a beauty buzzword. And with all buzzwords, there's a certain amount of distrust. You want to know if sustainable beauty and personal care is actually worth the hype.
And we get it. Fast beauty brands have saturated the market for years with the latest trends. But, in the case of cosmetics and personal care, more is definitely not more. Sustainable beauty brands encourage quality over quantity. Twelve step skincare routine? Buh-bye!
If you have questions about sustainable beauty and whether it's right for you, read on. We've put together a list of ways to improve healthy living and how you benefit from using eco-conscious beauty and personal care products.
5 Ways You Help by Purchasing Sustainable Beauty
1. You Help to Reduce Beauty Waste
This may be the most obvious benefit of going sustainable with cosmetics and personal care, but it's so important it topped the list. While traditional beauty products are wrapped in layers of unnecessary packaging, sustainable beauty brands design their packaging to be less wasteful. The beauty industry is a major contributor to the plastic crisis and supporting brands who take steps to cut down on waste reduces the amount of plastics that end up in landfills. Opt for products with eco-friendly packaging made from recycled and recyclable materials. Bonus points for compostable or refillable containers.
2. You Create a Wellness Routine
Yes, the sustainable beauty movement is about supporting a healthy environment. But it's also user-focused. The natural ingredients used to make sustainable beauty products are a better choice for you too. Your skin is the largest organ of your body and highly absorbent. What you put on your skin matters. Think of clean beauty products as part of a wellness routine for your skin.
3. You Save Money
The fast beauty industry follows the rule of something called "planned obsolescence", which is when companies create products for quick consumption. Sustainable beauty is also slow beauty. You may spend a bit more for quality products but the products are made more intentionally and designed to last.
4. You Support Authentic Brands
A main focus for fast-beauty brands is profit. Sustainable beauty brands create products with a purpose, adopting a triple bottom line which focuses on their social, environmental, and financial impact. When you buy from a conscious brand, you're supporting this mission. Purchasing products made by authentically sustainable brands means a greater demand for clean and sustainable beauty products.
5. You Inspire Action
You know the saying – you vote with your dollar. When you buy eco-friendly products, you're telling the beauty industry what the consumer wants. And brands listen. For proof of that, look at all of the fast-beauty brands that are releasing "natural" products. Remember, the best way to identify a truly natural product is to read the ingredient listings and follow brands you trust.