FREE SHIPPING + FREE RETURNS
Hi, it looks like you're located in Canada.
Hi, please confirm your shipping country.
Let's make sure you're shopping on the right Navago site.
This item is currently not available. Please check back later.
Simply Smita's light, floral, chemical + aluminum-free nourishing underarm paste that naturally neutralizes body odor and hydrates the skin leaving you feeling fresh and odor-free. Made with organic coconut oil, organic arrowroot powder, gluten-free baking soda and organic lavender essential oil, and packaged in a reusable glass jar. Comes with a biodegradable spoon and mini dowel for easy application and mixing when needed.

DIRECTIONS

Gently rub a pea-size amount under each arm. Feel free to rub any leftover paste into your hands or other dry areas. Water can cause natural ingredients to spoil so make sure your fingers are dry and clean before applying! Use within 6 months of opening for best results. Unopened jars can last for 12 months when stored in a cool, dry place. Keep out of direct sunlight.

New to Natural Deodorant? It's important to give your underarms a break before making the switch. Check out our guide to help you detox those pits!
SIZE
1 oz

INGREDIENTS

ORGANIC COCONUT OIL: Moisturizing, with anti-bacterial, anti-microbial and anti-fungal properties. Our coconut oil is certified organic, unrefined, cold-pressed + NON-GMO Project verified.

ORGANIC ARROWROOT POWDER: Natural powder that helps absorb moisture and draw out toxins. Our arrowroot powder is certified organic.

NATURALLY SOURCED BAKING SODA: Helps neutralize body odor, balance pH levels and absorb sweat. Our pure baking soda is extracted using only water (no chemicals!) and is within NOP standards for organic production. Note: Baking soda is naturally aluminum-free, unlike its friend baking powder, so no need to worry about aluminum here.

ORGANIC LAVENDER ESSENTIAL OIL: Antibacterial properties and calming natural scent. We believe that less is more when it comes to essential oils so this light scent may fade after application. But don't sweat it! Your pits will remain odor-free.
Support Contact:
Email: smita@simplysmita.com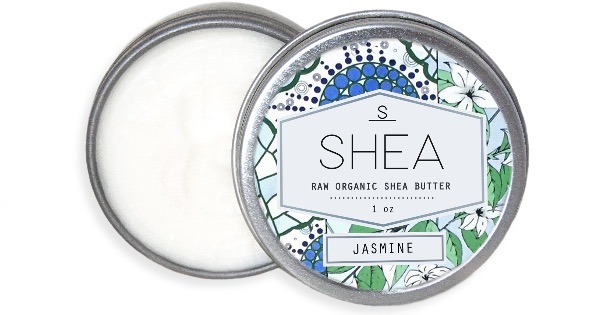 Raw Organic Shea Butter - Jasmine - 1 oz
Shea Brand
$11.00
$11.00
$11.00