FREE SHIPPING + FREE RETURNS
Hi, it looks like you're located in Canada.
Let's make sure you're shopping on the right Navago site.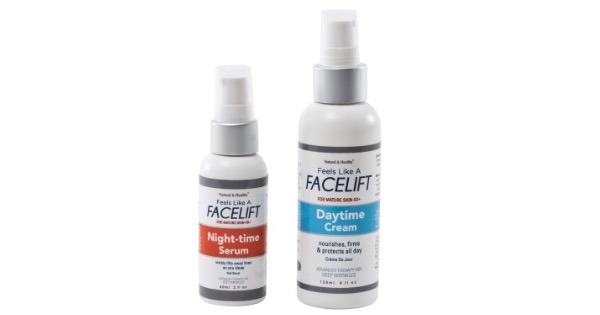 Daytime Cream & Nighttime Serum Duo
This item is currently not available. Please check back later.
Feels like a Facelift for Mature Skin

During our forties, the body undergoes profound changes, and the skin is not exempt. It is a time where dryness can exist simultaneously with all kinds of problem skin. How unfair is that? Also, the signs of aging, including fine lines and wrinkles, discolouration and laxity, are emerging and can progress quickly through the decade. Fortunately, there are many ways to address these issues to maintain your best complexion possible. Pharmacist D.R Segal further researched and enhanced his fatherís original discovery. With Herbal Glo Feels like a Facelift, youíll discover within days your appearance will undergo such a magnificent transformation that you will never want to be without it again.

SIZE
4 fl oz Daytime Cream
2 fl oz Night-time Serum

INGREDIENTS

Daytime Cream: Water (Aqua), Glycerin USP Kosher, Glyceryl Stearate SE, Isopropyl Myristate, C12-15 Alkyl Benzoate, Cetearyl Alcohol, Caprylic/Capric Triglyceride, Dimethicone(and) Cyclopentasiloxane,Sodium Ascorbyl Phosphate (Vitamin C), Sodium Hyaluronic Acid, Argan Oil (Spinosa Kernel) , Aspalathus linearis (African Rooibos) Extract. Butyrospermum Parkii (African Shea Butter) Fruit Nut Extract, Quillaja (African Saponaria Soap) Bark Extract, Matricaria Recutita (Chamomile) Flower Extract, Salix Alba (Willow) Bark Extract, Camellia Oleifera (Green Tea) Leaf Extract, Ginkgo Biloba (Ginkgo) Leaf Extract, Saliva Officinalis (Comfrey) Root Extract, Aloe Barbadensis (Aloe Vera) Leaf Extract, Citrus Grandis (Grapefruit) Seed Extract, Tocopheryl Acetate (Vitamin E), Retinyl Palmitate, (Vitamin A), Octyl Methoxycinnamate, Phenoxyethanol.

Nighttime Serum: Water (Aqua), Glycerin USP Kosher, Cetearyl Alcohol, Dimethicone (and) Cyclopentasiloxane,Glyceryl Stearate SE, Caprylic/Capric Triglyceride, Aspalathus linearis (African Rooibos) Extract, Sodium Ascorbyl Phosphate (Vitamin C), Sodium Hyaluronic Acid, Argan Oil (Spinosa Kernel), Butyrospermum Parkii (African Shea Butter) Fruit Nut Extract
Support Contact:
Email: segal@herbalglo.com