FREE SHIPPING + FREE RETURNS
Hi, it looks like you're located in Canada.
Let's make sure you're shopping on the right Navago site.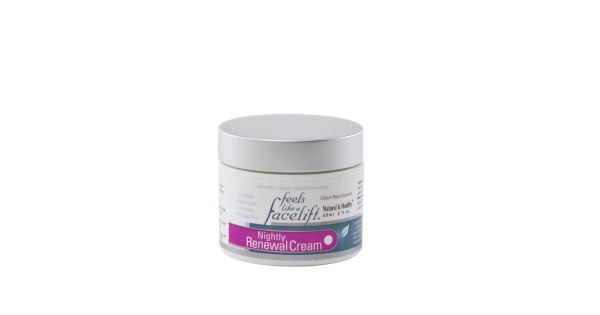 Feels Like a Facelift - Nightly Renewal Cream - 2 fl oz
This item is currently not available. Please check back later.
This is the most incredible cream by Herbal Glo you will ever try. It is packed with high potency anti-oxidants in a thick, rich base. When you wake up in the morning, your face will feel younger, softer and smoother looking. The results are accumulative - The more you use, the better the results.


SIZE
60 ml / 2 fl oz

INGREDIENTS

Purified Water, Glyceryl Stearate, Stearic Acid, Cetyl Alcohol, Dimethicone, Isopropyl Palmitate, Green Tea Extract, Chamomile, Ginkgo Biloba, Comfrey Extract, Rooibos Extract (Aspalthus Linearis), Aloe Vera, Shea Butter, Coenzyme Q10, Green Tea, Alpha Lipoic Acid, Ascorbic Acid, Tocopheryl Acetate (Vitamin E), Hexapeptide-3, Palmotoyl Oligopeptide, Pentapeptide, Retinyl Palmitate (Vitamin A), DMAE, Grapefruit Extract.
Support Contact:
Email: segal@herbalglo.com