FREE SHIPPING + FREE RETURNS
Hi, it looks like you're located in Canada.
Let's make sure you're shopping on the right Navago site.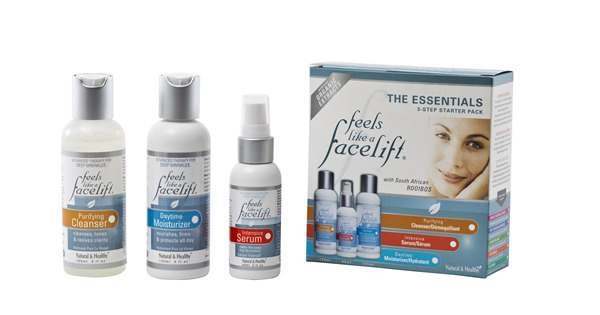 Feels Like a Facelift - Starter Pack
This item is currently not available. Please check back later.
This Herbal Glo Starter Pack includes the Purifying Cleanser, Intensive Serum, and Daytime Moisturizer.


SIZE
120 ml Purifying Cleanser
60 ml Intensive Serum
120 ml Daytime Moisturizer

INGREDIENTS

Purifying Cleanser: Purified water, cocamidopropyl betaine, lauramide MEA, Chamomile (matricaria) extract, ginkgo biloba, comfrey extract, rooibos extract (aspalthus linearis), aloe vera, hemp seed oil, shea butter, coenzyme Q10, green tea, alpha lipoic acid, Polysorbate 80, ascorbic acid, tocopheryl acetate (vitamin E), hexapeptide-3, Palmitoyl Oligopeptide, Pentapeptide, retinyl palmitate (vitamin A), DMAE, grapefruit extract

Intensive Serum: Purified water, butylenes glycol, caprylic/capric triglyceride, glycerin USP, cera alba, cyclomethicone, wheat amino acid, chamomile (matricaria) extract, ginkgo biloba, comfrey extract, rooibos extract (aspalathus linearis),hexapeptide-3, palmitoyl oligopeptide, pentapeptide, aloe vera, hemp seed oil, shea butter, coenzyme Q10, green tea, alpha lipoic acid, ascorbic acid, tocopheryl acetate (vitamin E), DMAE, grapefruit extract, diazolidinyl urea.

Daytime Moisturizer: Water (Aqua), Glyceryl Stearate SE, Stearic Acid, Cetearyl Alcohol, Glycerin USP Kosher, Carbomer, Triethanolamine, Herbal Parfum (Fragrance), An aqueous-infusion of Aspalthus linearis (African Rooibos Red Tea) Leaf Extract* Butyrospermum Parkii (African Shea Butter) Fruit Nut Extract, Quillaja (African Saponaria Soap) Bark Extract, Matricaria Recuitta (Chamomile) Flower Extract*, Salix Alba (Willow) Bark Extract*, Camellia Oleifera (Green Tea) Leaf Extract*, Ginkgo Biloba (Ginkgo) Leaf Extract*, Saliva Officinalis (Comfrey) Root Extract*, Aloe Barbadensis (Aloe Vera) Leaf Extract, Citrus Grandis (Grapefruit) Seed Extract*, Acetyl Hexapeptide-3, Palmitoyl Oligopeptide, Palmitoyl Pentapeptide-3, Tocopheryl Acetate (Vitamin E), Retinyl Palmitate, (Vitamin A), Octyl Methoxycinnamate, Capryl Glycol Phenoxyethanol
Support Contact:
Email: segal@herbalglo.com