FREE SHIPPING + FREE RETURNS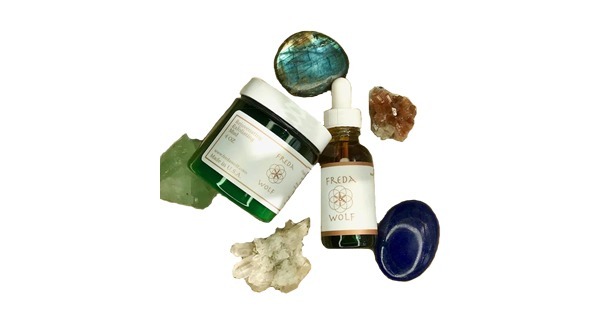 $
{{myPrice}}
{{myDecimal}}
$118.00
Limited Quantity
Free Shipping / Free Returns

This Freda & Wolf duo resurfaces and nourishes the skin, revealing a youthful and healthy glow. By exfoliating every 3 days, dead skin cells are removed from the top layer of the dermis so that the moisturizer can deliver optimal hydration and promote cellular turnover.

The Oil & Mud Duo will transform your skin in the first week of use! After 4 weeks you can enjoy a clear complexion, with silky smooth skin and an even skin tone.

Formulated for all skin types (normal, acne prone, mature, rosacea or dry)
No animal testing EVER
Made in small batches, with love
100% organic
Vegan & gluten free
Love your skin. Love your face. Embrace your life!
SIZE
1 oz Rejuvenating Face Oil
4 oz Rejuvenating Exfoliating Mud

INGREDIENTS

Rejuvenating Face Oil: Organic Oil Blend: Jojoba, Chia Seed, Rosehip, Prickly Pear Seed, Hemp Seed, Sea Buckthorn, Meadowfoam Seed, Moringa, Rice Bran, Grapeseed, Marula, Kalahari Melon, Cranberry, Sacha Inchi
Essential Oils: Sandalwood, Frankincense, Lavender, Bergamot, Neroli, Chamomile, Vetiver

Rejuvenating Exfoliating Mud: Montmorillinite clay, white Kaolin clay, Moroccan rhassoul clay, Hawaiian red alaea salt, vitamin C powder, sodium bicarbonate, rice bran powder, clove powder, orange peel powder, turmeric powder, rose petal powder, pearl powder, sandalwood powder

NOTE: All ingredients are organically sourced or naturally harvested

Support Contact:
Email: hilde@fredawolf.com